Music in the Library
Sponsored by Friends of the Fallbrook Library
All Music Series events are held in the Library's Community Room. 
Featured artists and performance dates and times vary!
No reservations necessary, seating is on a "first come" basis
Admission – FREE!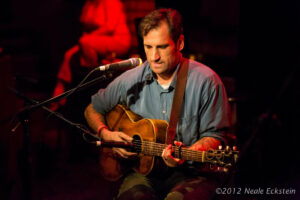 "Marine" – an odd, yet apt synthesis of Dave Dersham's songs, according to anti-folk artist, and occasional improv-slam poet, James O'Brien (NYC). Murky, cautionary tales of submerging archipelagos, unfolding eco-dystopia, Samoan pigskin heroes, and occasional whimsy of grunt work in the Pioneer Valley lowlands, where Dave spent his formative years, meandered away, and eventually returned.  Overall, a sound settling, despite perpetually poor snowpack and increasing humidity that is fortunately tempered by endless hiking trails and expanding bike path networks.
Dave completed "The Burn of Summer" (2003) in Somerville, MA, with the engineering assist of Jabe Beyer, Tim Kelly, and Tom Eaton. They, and a generous crew of remarkable talent, somehow grooved it together, enabling the album to enjoy regular airtime on Folk Radio's WUMB (UMASS/Boston) WERS (Emerson College), and as a finalist selection for Mountain Stage's "Emerging Artist" competition. 
"Gilding the Lilies" came out in 2011, recorded and accompanied by Lloyd Thayer and Jared Fiske. 10 tunes colored with lap steel, electric guitar, percussion, and keyboard.  The work was distributed internationally. 
Dersham is a sly humorist, cultural critic, and melancholy optimist; a groover of uncanny rhythm, muted chords with broad, semi-triangular shapes, wielding space for the open-hearted.
A third album of some sort – perhaps an EP – will arrive in the late spring of 2023, despite the insinuations of COVID-19 and its endless iterations.
"River" Bill Staines
"Tom Dooley" Frank Proffitt (Trad)
"White Buffalo" Rod MacDonald
"Wilde Mountain Thyme" (Trad)
* "Waiting" Dave Dersham
* "My Days are Numbered" Dave Dersham
* "Dalai Lama"  Dave Dersham
*  "Wonderland"  Dave Dersham
*  "Flying Cars"   Dave Dersham
*  "Carolina Wren"  Dave Dersham
*  "Resume Blues (King of the Odd Job)"  (video)
   "The Ballad of Seau"   Dave Dersham
"Pine Barrens
" Dave Dersham