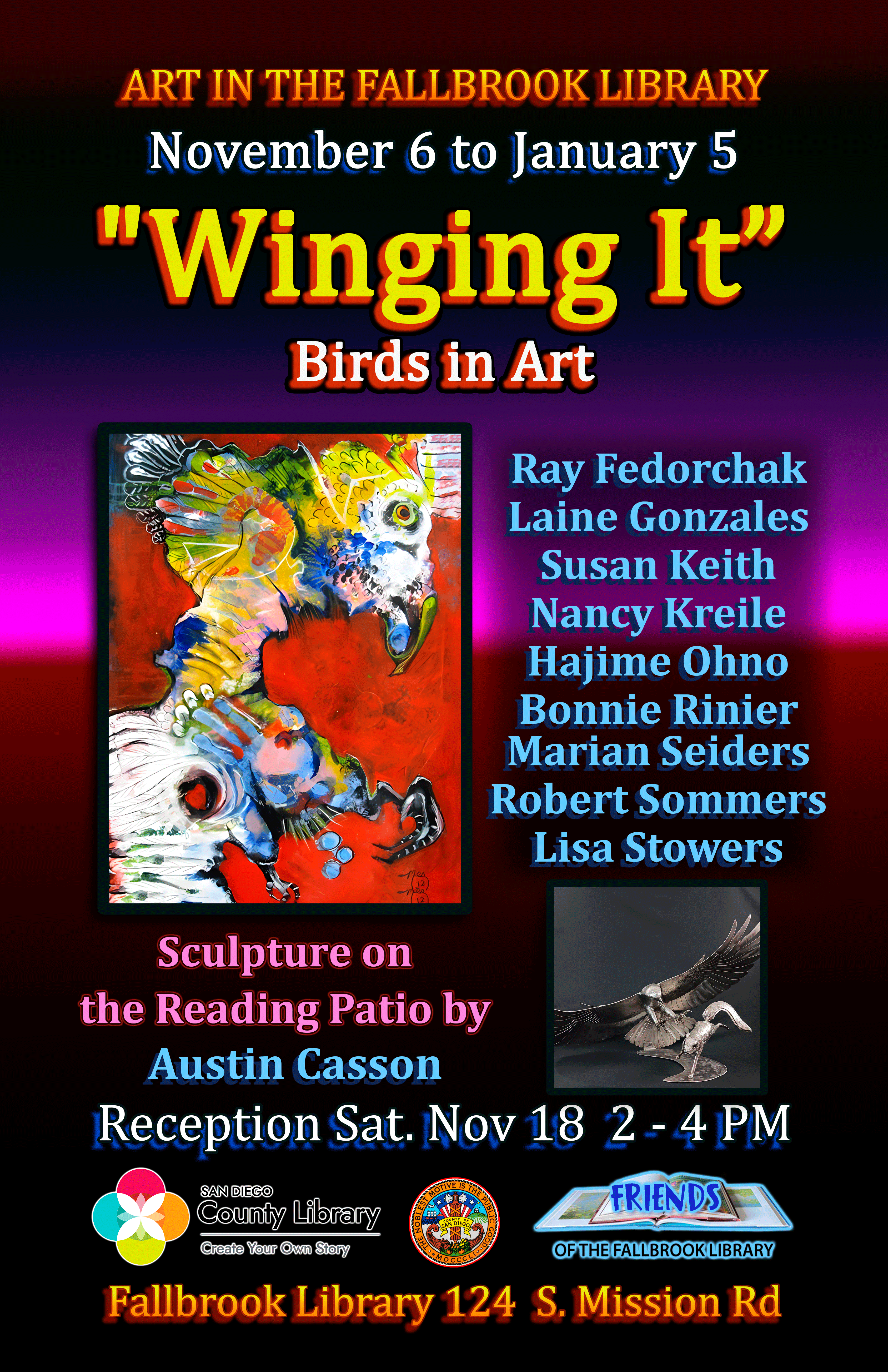 Friends of the Fallbrook Library
are honored to present
Winging It
BIRDS IN ART
November 6th  through January 5

Artists Reception: Saturday,  November 18, 2-4 PM
The latest art exhibition, "Winging It: Birds in Art", in the Fallbrook Library, will take flight from November 6, 2023, to January 5, 2024. Bird lovers will enjoy seeing the interpretations from ten locally gifted artists who all agree fine feathered friends are a perfect subject to capture in painting, photography and sculpture.
The Friends of the Fallbrook Library display the beauty and diversity of birds with thirty-eight paintings in the Community Room and hallway as well as with sculpture on the Reading Patio. Robert Sommers, Laine Gonzales, Hajime Ohno and Nancy Kreile take photos of birds with beautiful sensitivity.  Gonzales says she "enjoys the challenge of capturing images that honor her subjects". Sommers finds "peaceful places and escapes the world" when he goes out to shoot his subjects and his photographs reflect it. Kreile says "Birds are my passion". Ohno expressly states Fallbrook inspire his images both in photography and with paint and is "captivated by birds."
Marian Seiders, Bonnie Rinier, Susan Keith, Lisa Stowers and Ray Fedorchak use their areas of art expertise to create personal art statements on paper or canvas. Seiders uses mixed media to great advantage saying" birds have interesting shapes and colors and represent a variety of symbolic meanings". Renier, who paints charming watercolors says" birds are special little creatures!". Stowers creates whimsical bird collages and "encourages their presence" on her patio while Keith masterfully captures their majesty in her large-scale watercolor pieces, first becoming interested in them as subjects watching them in her backyard. When Fedorchak saw" The Predator", face to face, he knew he had to make a pastel painting of it.
Austin Casson, nationally recognized sculptor, has been creating metal, bronze and stone works for the past thirty-four years. Every small piece of metal is carefully applied to create amazing sculpture. In keeping with the show's theme, his pieces on display are of birds. His work is in permanent collections all over, notably In World of Gold, Fallen Heroes Memorial and California Thoroughbred Halls of Fame. 
Artists sReception November 18 from 2-4pm at this free event. There will be music by Christina Curiel and refreshments will be offered. The library is loEveryone is invited to meet the artists at a reception on cated at 124 S. Mission Road in Fallbrook.