Question: What is black and white and contemporary All over?
Answer: The new fine art exhibition at the Fallbrook Library, January 17-March 3.
Reception – January 20, 6-8 PM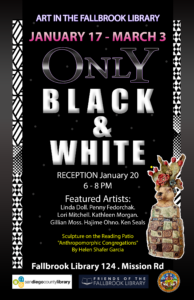 Hosted by the Friends of the Fallbrook Library, the wall art in this show focuses on the absence of color.  " Only Black and White " is  a monochromatic display that is visually strong, honest and arresting.  On the Reading Patio, "Anthropomorphic Congregations" is an amusing sculpture collection by Helen Schafer Garcia.
Art in the Community Room created by award winning artists Linda Doll, Penny Fedorchak, Lori Mitchell, Kathleen Morgan, Gillian Moss, Hajime Ohno, and Ken Seals covers drawing, pen and ink, photography, print, painting, textile art and more. Though most paintings rely on and draw us in with color, these works offer stark contrasts of lights and darks and surprise viewers with successful simplicity,  The use of only black and white demonstrates the creativity each artist brings to their work. Doll creates detailed zentangles in ink, Moss pieces printed fabric together into quilt form, Seals shoots black and white photographic images, Morgan paints abstracts, Mitchell tells stories with her drawings, Ohno pUnifying all of this artwork is the use of only black and white. 
Ceramic creatures by Helen Shafer Garcia march across the reading patio in a separate display. Each tells a story. "Anthropomorphic Congregations" is a departure because colored ceramic glazes are used on these thoughtful imaginary creatures. 
Join us at a special reception and meet the artists on Friday, January 20 from 6-8pm. Everyone is welcome at this free event. The library is located at 124 S. Mission Road.hotographs and draws animals and Fedorchak paints in watercolor.