Get Involved!
As a non-profit, the Friends rely on the generosity of people like you for support. We want to do everything possible to promote and enhance our library, but we can't do it alone.  Memberships, book donations and purchases, memorials and honors or a few hours of your time all support our mission.  Won't you join us?
Check out the Donor Opportunities
---
Tax Deductions:
Friends of the Fallbrook Library (FoFL) is a 501(c)(3) organization and all donations are tax deductible to the extent allowed by law; Tax ID #95-3016050
FoFL is listed on the California Registry of Charitable Trusts, Registry #005252
Tax donation forms for book donations are available in the Bookstore.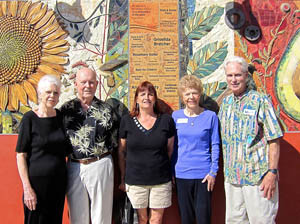 Donor Tile Dedication, October 2014
Carla and Gordon Tinker, Laura Hughes, Karen and Walt Parry