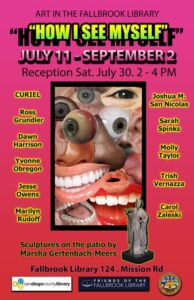 Both exhibits will make you smile 
and are free and open to all.
Friends of Fallbrook Library
presents

Two New Art Exhibits
at the Fallbrook Library
"HOW I SEE MYSELF!"
Opens July 11 and runs until September 2!
Join us for the Artists' Reception
on Saturday afternoon, July 30 from 2 pm to 4 pm
Meet and celebrate the artists!
In the Community Room –
An exhibition of revealing self portraits by artists
CURIEL, Ross Grundler, Dawn Harrison, Yvonne Obregon, Jesse Owens, Marilyn Rudoff, Joshua M. San Nicolas, Sarah Spinks, Molly Taylor, Trish Vernazza and Carol Zaleski.
Self portraiture is an important part of an artist's journey but among the hardest subjects to actually do. How well do we know ourselves? What do we want to be seen by others? The practice of self representation on a surface deepens our creative innervision and our relationship with ourselves. The artists in this show are bravely willing to invite us to see who they think they are.

ConAcious Discussion by Jesse Owens

Flocking with My Flamingo by Trish Vernazza

Self Portrait by Ross Grundler

Glass Mirrors by Joshua M. San Nicolas

Head in the Clouds by Marilyn Rudoff

The Gift of Hope by Trish Vernazza
On the Reading Patio –
Exceptional bronze sculpture by
Marsha Gertenbach-Meers, a gifted artist,
well known for her impeccable bronzes with patina figurative work. The Friends of the Fallbrook Library are delighted to have seven of her works on display. Her award winning pieces are intricately detailed and captivating.

The Dance of Life by Marsha Gertenbach-Meers
••••••••••••••••••••••••••••
Artists have been painting themselves for centuries.Painting, photographs and new technologies have expanded the ways portraits have been captured. Are the images serious, representational, and humorous or do they tell a story? Do you immediately recognize the subject? True self portraits are not selfies. They take time and effort and an offer opportunity to experiment with new techniques. And importantly, it is a way to know the self better. The art in this show are surprising renditions of people you may know covering a broad range of mediums.
••••••••••••••••••••••••••••••