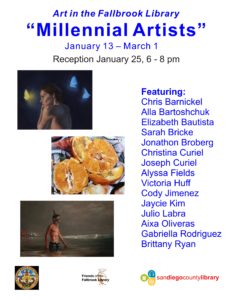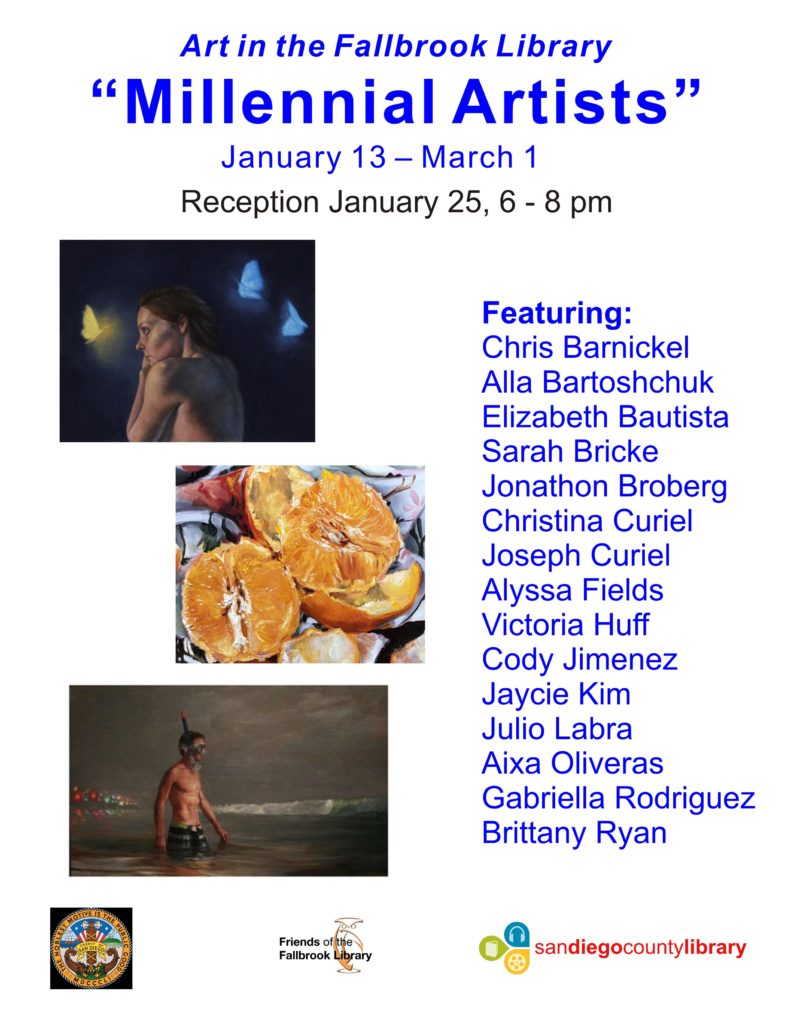 FALLBROOK –  The Friends of the Fallbrook Library announce a new art exhibit "Millennials" in the community room.  The exhibit features millennial artists (age 22-38) many of whom use classical painting techniques to produce contemporary art.  Open January 13 through March 1, a special evening reception will be held on January 25.
The sixteen participating artists who come from locations between Laguna and Mexicali are Chris Barnickel, Alla Bartoshchuk, Elizabeth Bautista, Sarah Bricke, Jonathon Broberg, Christina Curiel, Joseph Curiel, Alyssa Fields, Alfonso Higareda, Victoria Huff, Cody Jimenez, Jaycie Kim, Julio Labra, Aixa Oliveras, Gabriella Rodriguez and Brittany Ryan. 
Most of the artists are professionals or are working on their Masters in Fine Art degrees at Laguna College of Art and Design, Mira Costa Community College, CSU San Marcos or CSU San Bernadino.  Only three have previously shown their work in Fallbrook.  The exhibit is curated by Alla Bartoschuck and Larry Miller. Ms Bartoschuck recently judged the portraits show at the Brandon Gallery in Fallbrook and teaches at the Laguna College of Art and Design.  Mr Miller is a local resident and has curated numerous art shows at the library.
The reception, Friday, January 25, from 6 to 8 p.m. is free and open to the public.  Meet the artists and enjoy live music and light bites and refreshments.  The library is located at 124 S. Mission Road.