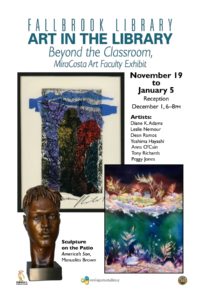 Classical and Contemporary Art at the Fallbrook Library
Two art shows, hosted by The Friends of the Fallbrook Library, will be on display from November 19, 2017 to January 6, 2018.
On the Reading Patio, Manuelita Brown exhibits classical bronze sculptures and in the Community Room seven Mira Costa art faculty members present contemporary art involving a mélange of media and methods.  Diane Adams, Yoshimi Hayashi, Peggy Jones, Leslie Nemour, Anna O'Cain, Dean Ramos and Tony Richards are variously involved in teaching drawing, painting, ceramics, 3D art, printmaking and photography. Each of these educators creates art in the studio beyond the basics that they teach and each employs unusual methods or media to express their very personal visions. These two exhibits will provide a thought provoking contrast of classical and contemporary art.
Please join us for the reception on Friday, December 1 from 6-8pm. Meet the artists, enjoy live music and refreshments. All are welcome free of charge. 124 S. Mission Road.